Swinging doors look pretty simple but looks can be deceiving. While the mechanisms of most manual swinging doors are relatively straightforward, there are a number of factors you should consider before and during the installation process, to ensure the end product looks and functions how you imagined. The last thing you want is to go through the hard work of an installation only to discover that your door swings out when it should swing in.
At RW Hardware, we sell some of the world's most trusted hardware parts for swinging and sliding doors alike, and our customers come to us for advice on projects all the time. Before you start your next swinging door installation, take a look at a few of our basic tips.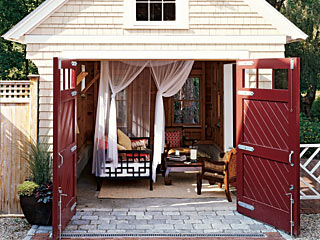 Inward or outward? You decide (but you'll probably want inward).
One of the first things you'll want to consider when installing a door is whether you want an inswing or outswing.
An inswing door is the kind that you push when standing on the exterior of a room or building, while an outswing door is the kind that you pull. For example, let's say that, when standing outside a house, you open the front door by pushing it. That's considered an inswing. If you are standing in the hallway outside a bathroom and pull the bathroom door open, that door is an outswing.
Most of the doors in our homes are inswings. These doors allow hallways, porches and other high-traffic areas to remain unobstructed, even when they are in the open position. There are exceptions, such as secondary glass front doors, which often swing outward to prevent moisture and debris from entering the home (while the true front door swings inward). Outswing garage doors and swing carriage garage doors are also fairly common.
In most cases, you will be installing an inswing door. Still, take the time at the beginning of your project to determine whether an inswing is the right choice for you. The answer may affect other steps of the project, from what hardware you purchase to where you install the door's joints.
Get a permit (if you need one).
Whether or not you need a permit all depends on local ordinances. While some municipalities require permits for any work that costs $200 or more (your door will likely fall under that category) others don't require paperwork for any interior cosmetic changes. (Note that replacing a door on the outside of your home, such as exterior swing doors, will likely not qualify as interior changes.)
Whether you're working with a contractor or handling the installation yourself, we recommend always checking local ordinances before you begin. Ordinances tend to change, so even if you've checked for prior projects, always verify the latest codes before you get started. If you're working with a contractor and it turns out that you need a permit, clarify with your contractor whether or not they can get the permit for you and what this will cost.
Ensure that your wall can hold your new door.
One of the costliest mistakes some first-timers make is installing their door directly into the plaster, woodwork or drywall.
Even if your door is relatively light, these elements are not designed to support weight for sustained periods. Even if they support the door initially, they may not hold it for long. For a strong, secure door, make sure the hinges are installed properly into the studs.
Get the right hardware.
Most swinging doors require at least two types of hardware: strap hinges and handles.
While handles mostly come down to personal preference, it's important to get a strap hinge that can support your door. In most cases, a standard hinge will do the job. Made with high-quality steel for durability and finished with a powder coat for long-lasting appeal, our customers have used our standard hinges for stall doors, swing carriage garage doors, swinging garage doors, and many other projects.
While our standard hinges are attractive and designed to match any style of door, our decorative hinges take things up a notch. These are perfect for homes, farms or customer-facing businesses that are looking for some added curb appeal.
For industrial swinging doors, we usually recommend our industrial hinges. Made with thicker steel, these extra-tough hinges are designed for long-lasting performance in the harshest conditions. Our stainless-steel variant is the perfect upgrade for those working in especially damp or caustic settings, including zoos and aquariums.
Learn more about interior and exterior swinging door hardware, from backplates to ball bearings, with our Door Hinge Buyer's Guide.
Get your swinging door hardware from a vendor you trust.
Getting the right hardware is important, as it affects both the look and feel of your door. Make the most of your investment – and protect your door – by getting hardware from a quality vendor with decades of experience.
At RW Hardware, we've been making the world's most trusted hardware for more than 140 years. Our online store has everything you need to make your next swinging door project a success, with each of our products available in a variety of styles, colors, materials and varieties. Whether you are looking for individual components or kits that contain everything you need, find it on our online store now!