From cozy and rustic to modern and stylish, tiny houses are rapidly becoming the residential trend of choice among people of all backgrounds. With the promise of financial independence, more time, and a smaller environmental impact, those who embrace the tiny living lifestyle are tapping into a newfound freedom that is revolutionizing the way we think about home: one that is smaller, smarter, and more sustainable.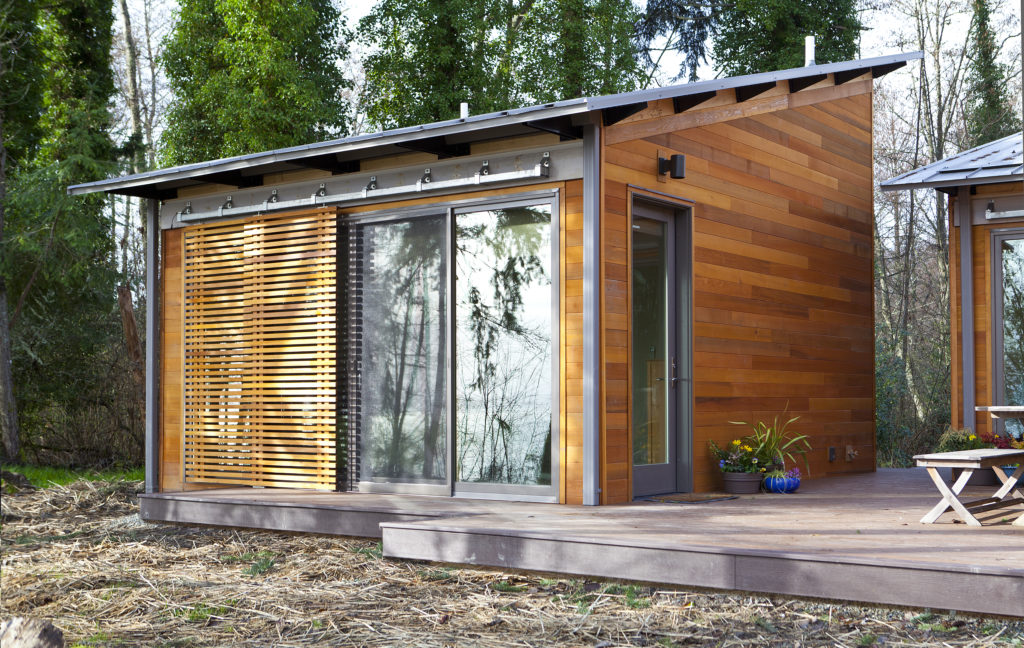 Why are people choosing to downsize? People are drawn to tiny houses for many reasons.
First, they can free up financial resources and free up time that would otherwise be tied up in daily maintenance of a traditional home. Second, tiny houses can also offer an environmentally friendly way to live, as they require fewer resources to build and use less energy than traditional homes. Finally, tiny living offers a simpler lifestyle, allowing people to simplify and focus on life's important things.
But one of the best benefits of having a small home is that you get to put deeper detail into the design and craftsmanship of your living space. With a tiny home, you can tailor the space to fit your every need, creating a unique and custom living experience. From gorgeous finishes to cozy co-working spaces, tiny homes allow for an endless array of layouts, finishes, and amenities that make living small truly special.
1. Opt-In For Space Saving Sliding Doors
No more swinging, bulky doors that take up valuable living space in your tiny home. Sliding doors are the perfect way to maximize your living space and add a sleek, modern look to your home. They come in a variety of sizes and are easy to install, making them a great option for those aiming to minimize their home's footprint.
With sliding doors, you're able to tuck away bulky furniture and create a minimalist look with tons of open space. Not to mention, they're a great option for tight spots where a swinging door won't fit, like between two rooms or in a hallway. Plus, they're great for soundproofing, so they can help create a serene, peaceful atmosphere in your tiny home.
Sliding doors come in all sorts of different colors, styles, and finishes, so you can be sure to find one that perfectly complements your home's aesthetic. With so many options, you're sure to find the ideal sliding door that will give your tiny home a big boost of style and function.
2. Show Off Your Creative Side With a Chair-Table-Bookshelf Combo
Show off your creative side with a chair-table-bookshelf combo. This innovative set of furniture pieces fit together like pieces of a puzzle and are perfect for maximizing space in a tiny home. When you need extra room, slide the chair and table out for a board game or for extra dining space when company is over. Then, when you're done, simply slide the table and chairs back into the bookshelf to free up the floor space. Not only is this furniture set convenient, but it can bring a modern, playful look to your tiny home.
Plus, with its unique design, this furniture combo is sure to be a conversation starter with any guests you have over. So opt for this space-saving solution to add a bit of style and convenience to your tiny home.
3. Sleep Tight With Space-Saving Bunk Beds
Vertical space matters when it comes to living light. The classic bunk bed is the perfect way to save space in tiny homes and make the most of limited bedrooms where several people share the same space. Not only do bunk beds add an extra sleeping spot, but they also look great in your home. Even adults living in small spaces can find modern, elegant loft beds with desks and stairs to give their living space a unique touch.
Not to mention, bunk beds add a cozy and fun atmosphere to any room. With more people to cuddle up with, you can enjoy the comforts of a tiny home to the fullest. So if you're looking for a way to save space and create a fun, inviting atmosphere in your home, bunk beds are definitely the way to go.
4. Skip The Legs: Mount Desks and Other Pieces
Wall-mounted furniture is another great way to save space in your tiny home. From desks and chairs to shelves and cabinets, wall-mounted furniture eliminates the need for legs and other bulky hardware that can eat up precious floor space.
Plus, mounting items on your walls also makes them easier to access and gives your home a cleaner, more modern look. And if you really want to get creative, painting or decorating the underside of a wall-mounted table transforms it into wall art when it's folded up! With so many options, wall-mounted furniture is a great choice for maximizing your tiny home's storage potential. Of course, you need to use quality hardware if you want your mounts to withstand everyday wear and tear.
Things that you can consider mounting:
Shoe racks
Ironing board
Shelving
Bookshelves
Lighting fixtures
Dressers
Desk
TVs
Media consoles
Bar carts
Picture frames
Cat litter boxes/perches
5. Get Crafty With Furniture That Has Built-In Storage Space
It's time to get creative when it comes to maximizing your tiny home's storage space. Consider furniture pieces that double as storage, such as coffee tables that open up to become trunks or breakfast nooks with storage under the seating. Some beds even come with built-in drawers or shelves! If you don't have the budget for new furniture, you can always get crafty and repurpose items you already own. Think outside the box and find creative ways to use furniture as storage.
Some ideas include using an old dresser as a kitchen island or using a vintage trunk as a nightstand. You can also turn an old desk into a bookcase or use ottomans as footrests that double as storage. With a little imagination and some elbow grease, you can make the most of your tiny home's storage space.
6. Try a Nested Table In Your Space
If you're looking for a way to maximize your tiny home's floor space, consider getting a nested table. This type of table is designed to fit snugly beneath your couch or sofa, giving you extra space when you need it. You can also place a lamp on top, giving you an extra spot for reading or relaxing. Best of all, these tables can be easily moved around and are perfect for small spaces. They're a lot like nesting dolls and can be a fun and creative way to add extra storage and seating to your tiny home.
7. Use Compact, Unique, and Mounted Lighting Solutions
Lighting is essential for any tiny home. After all, you want to be able to see what you're doing in your small space. But instead of using bulky lampshades and overhead lighting, opt for compact, unique, and mounted lighting solutions.
Try using wall sconces, pendant lighting, and even string lights to brighten up your home. Track lighting and recessed lights can also help create a cozy atmosphere. And don't forget about using mirrors to reflect light and make your tiny home appear larger and brighter. With the right lighting solutions, you can create a bright and inviting atmosphere in your tiny home.
8. Don't Waste Your Bedspace: Try a Murphy Bed
Maximize your tiny home's space and add a sleek, modern look with a Murphy bed. This fold-up bed is hinged at one end and can be quickly folded up vertically inside a cabinet, freeing up floor space for other furniture and activities. Named after William Lawrence Murphy, who first sought to patent the design, Murphy beds have been helping people save space for over a century. With so many styles, sizes, and finishes to choose from, you'll be sure to find one that perfectly complements your home's aesthetic. A Murphy bed is the perfect way to maximize your tiny home's space without sacrificing quality, comfort, or style.
Just be sure to find quality, heavy duty hinges for your bed, as a poorly installed Murphy bed can cause injury.
9. Leverage the Vertical Space with Ladder Bookshelves
Leverage the vertical space in your tiny home with ladder bookshelves. These shelves lean against the wall and become progressively narrower toward the top, creating an eye-catching, ladder-like look. Despite the minimalist shelf and rail construction, you can fit a surprising number of items, making them a great choice for maximizing space. Showcase your favorite family pictures, decorative items, and books with ever-popular leaning ladder bookshelves.
10. Use Stairs with Built-in Drawers For Extra Storage
Rather than opt for a traditional closet, you may wish to consider stairs with built-in drawers. This is an ideal solution for small spaces, as the drawers don't take up extra space or create obstructions. You can use them for clutter-free storage of sports equipment, clothes, paperwork, and anything else you may need to store away. Plus, these drawers are designed for maximum use of space and come in various sizes and styles – so you can find one that perfectly matches your tiny home's aesthetic. With built-in drawers, you can maximize your living space and enjoy the convenience of extra storage without sacrificing style.
Make Your Space Last
Tiny homes require extra care. That's why you need the right hardware for mounting your vertical and horizontal supports. The last thing you want is to have to do some deep repair work when something goes wrong.
Choose sturdy and reliable materials, such as galvanized steel and stainless steel, when constructing your tiny home. Be sure to use corrosion-resistant bolts, nuts and screws. When installing your insulation, make sure to securely attach it to the walls and ceiling to prevent any drafts from entering. Also, use weather-resistant sealants to keep moisture and drafts from seeping in. Finally, be sure to inspect all materials before installation to ensure that everything is up to code.
Want to simplify those steps? RW Hardware withstands any test – from the test of time to the test of the elements. Our products are made of reliable materials perfect for tiny homes, including galvanized steel, corrosion-resistant stainless steel, and weather-resistant sealants. Our products will help make sure your tiny home is safe, secure and comfortable for years to come.