Swinging Door Hardware – Heavy Duty & Decorative Hinges
If your specs call for large swinging doors, our heavy duty barn door hinges are engineered for the job. Made with a thicker gauge of steel for heavy duty strength, increased weight capacity to bear very heavy and large doors, tighter tolerance, and coated in a superior quality finish to withstand the test of the elements and time, our Swinging Door Hardware hinges on craftsmanship.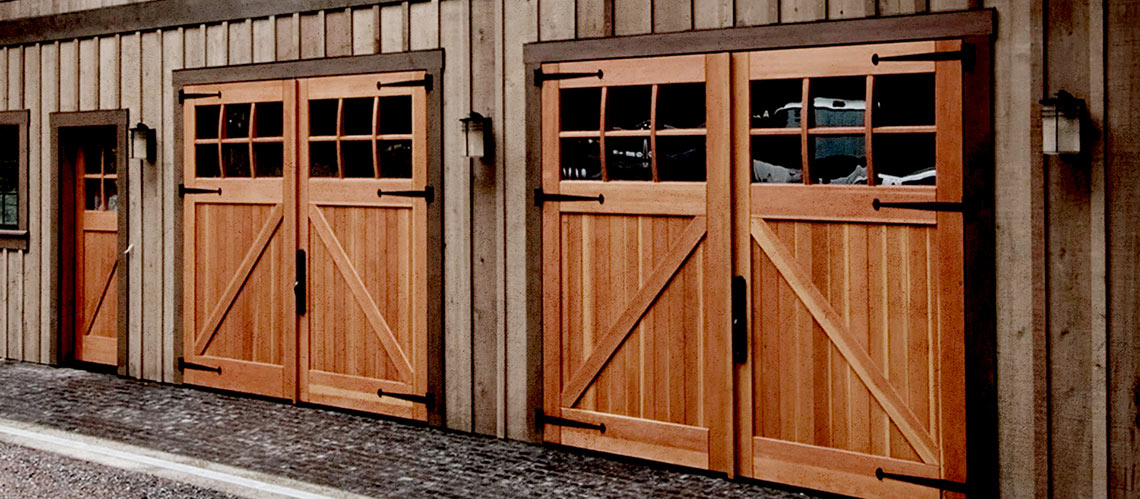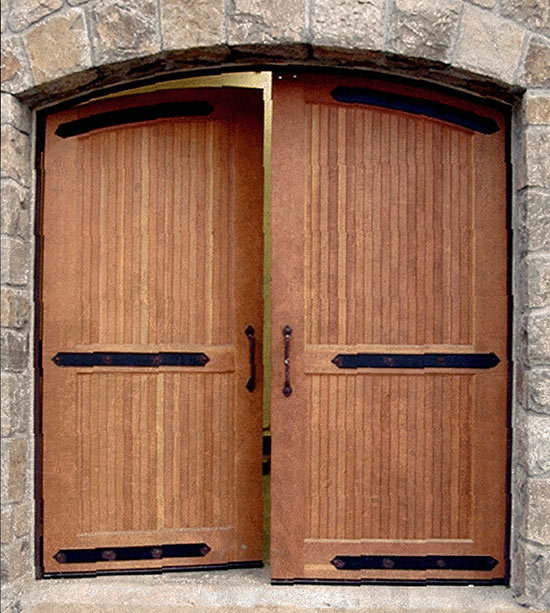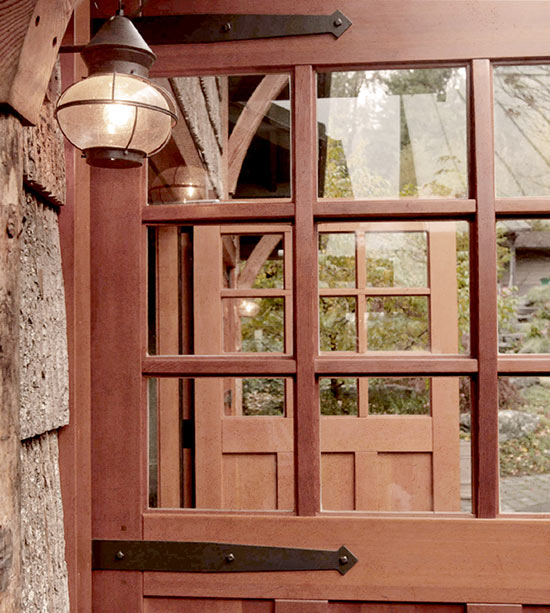 Strap Hinge Basics
Decorative and heavy duty strap hinge hardware for swinging doors comes in various thicknesses, usually 1/4″, 5/16″, 3/8″, or 1/2″ for doors weighing between 400 lbs. — 5,000 lbs. or greater. The hinges can be mounted to the wall or mounted directly to the frame. Jambs can consist of steel frame, hollow block, brick, concrete, or wood construction (7′ — 24′ tall or higher and 50' wide or wider). Standard strap hinges are used for manually-operated wood or metal doors that are surface mounted to wood, formed metal, or steel jamb frames.
Manual or Powered Operation
Whether you have large swinging doors that are made from wood or metal, or small doors with a high frequency of use, our heavy duty strap barn door hinges take on the task. When determining the type of strap hinge, it is important to consider the weight of your doors, and whether they are manual or power-operated. Ball bearing and disc bearing hinges have different weight limits – common strap lengths are 18″, 24″, 30″ and 36″, but RW strap hinges can be fabricated to fit any need.
Things to Consider When Choosing Swinging Door Hardware
Swing Door size (width, height, thickness, and weight)
Frame / jamb construction
Pintle type and location
Frequency of swinging door use
What Type of Hinges Do I Need?
Manually-operated doors should have Disc Bearing and Ball Bearing Hinges. Frequency of use drives hinge selection between disc or ball bearing styles. However, ball bearing hinges are the preferred choice in high usage applications (over 20 operations per day).
How About Hinge Back Plates?
A hinge back plate prevents damage to the back of the door and adds reinforcement to the door when bolting hinges to it.
Where Do I Use Center Hinges?
Slide-fold doors require center hinges. They should be sized the same as the strap hinges, and equal to the size used for the jamb hinge.
What Type of Pintle?
The style of pintle depends on the door jamb and mounting requirements on the swinging door. Hinge pintles can be removable, held in place with a cotter pin; or they can be non-removable, sealed in the hinge. The pintle can be offset from the hinge for mounting to an open frame, or set back on the face of a wall to allow open doors to clear the doorway. A butt-style pintle leaf can mount to the inside of the frame with the pintle pin located at the edge of the opening.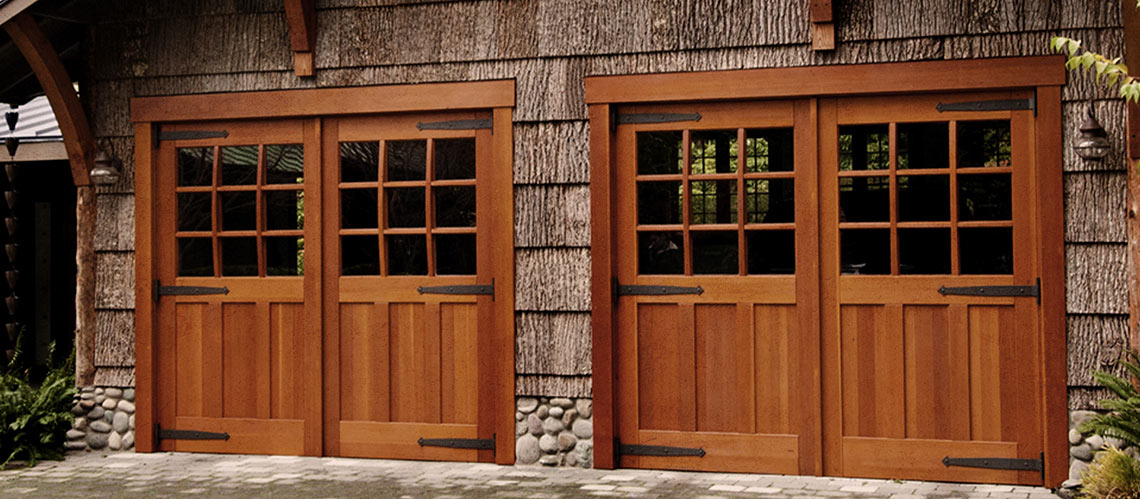 Heavy Duty & Decorative Hinge Mounting Styles
Strap hinges can be mounted a variety of ways, either directly to a frame or surface mounted with and without offsets.
Strap Hinge with Half-Butt Jamb Section
This half-surface strap hinge with a butt-style pintle leaf mounts directly to the inside of the frame for door clearance, as opposed to a surface mount hinge. The pintle pin is located at the edge of the opening.
Framed Mounted Half Surface Strap Hinge
Full Surface Mount Strap Hinge with Jamb Section
Full surface mount hinges can have pintles with or without offsets. The offset pintle can be mounted on the frame, or set back on the face of the wall to allow opendoors to clear the doorway. Alternatively, the pintle without offset can be located at the edge of the opening for mounting on the frame.
Center Strap Hinges
Full surface strap hinges are used as center hinges on slide-fold doors. There is an offset in the hinge strap of ¾" – 1″ to allow for clearance of hardware between doors when doors are closed.

Back Plates
Back plates are used when through-bolting strap hinges to a non-reinforced door (i.e., hollow metal) to distribute the force of the fasteners over a larger surface of the door. This prevents damage to the swinging door and adds structural reinforcement. Standard back plate hardware sizes match most hinge sizes at 18″, 20″, 24″, 30″ and 36″.

Take a "Moment" to Calculate for the Proper Hardware Hinge
"Moment" refers to the measure of the turning force on an object, such as a hinge. Calculating hinge moment is critical to the selection of properly sized hinges. Three measurements are required to calculate hinge moment in order to select the proper hinge, as well as the number of hinges your swinging door requires:
Weight of swinging door (expressed in pounds)
Width of swinging door (expressed in feet)
Frame / jamb construction
To calculate the moment on the hinge, multiply the weight of the swing door by the width of the door: Weight & Width = Moment. After moment is determined, obtain the manufacturer's recommendation, using the moment.
Example: 1,500 lbs Weight x 4′ Width = 6,000 ft/lbs of Moment