Sliding barn doors are very much 'in' right now, and there's a good reason for that. Sliding doors are easy to use, they can be installed in just about any room for any purpose, and, because they require minimal clearance, they can really open up a space.
Beyond all the functional benefits, let's be honest, barn doors just look a whole lot cooler than most traditional doors. They're also very flexible, matching and elevating almost any style.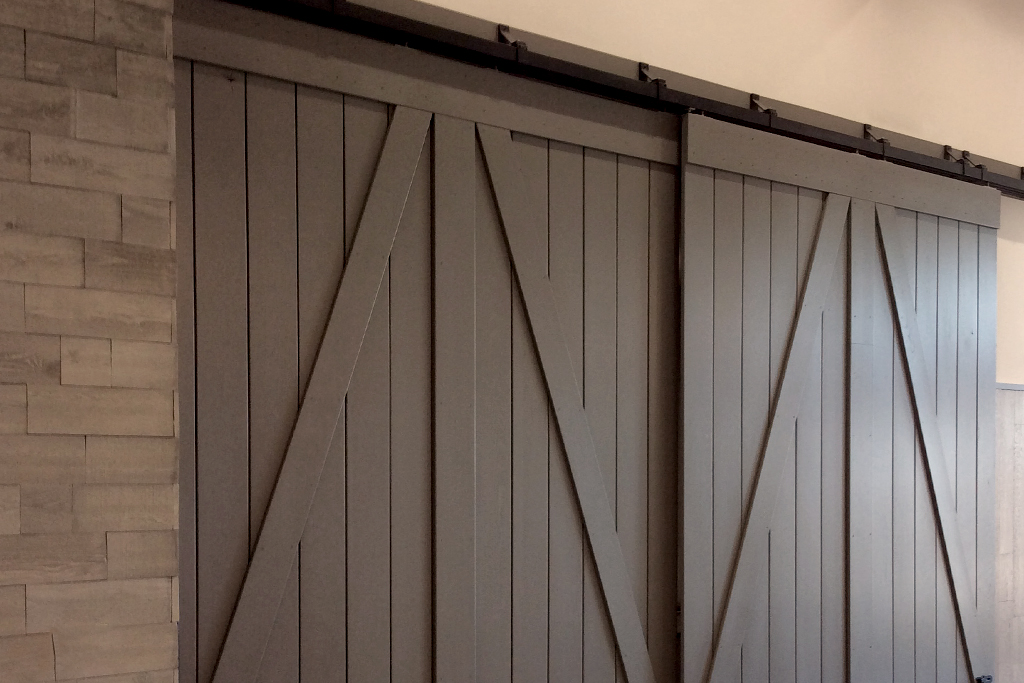 Looking for a rustic touch? There's a sliding door for that. A bold pop of color? You got it; sliding doors make great statement pieces. Want to add some drama to your dining room? You can't go wrong with double sliding barn doors. Bathroom entrance? Go with the frosted glass. Looking for something more modern? Try a single barn door with an understated wood slab. The beauty of sliding doors is that they take what is often a purely functional part of a house, a door, and transform it into an intentional element of design.
Here's the catch: Once you've chosen your door's material and location, you will, of course have to install it. Installation can be somewhat intimidating, especially for first-timers, but it doesn't have to be.
To make the process a little smoother, let's take a look at some of the questions that might come up before and during installation.
Do I need a permit?
That depends on your city's ordinances. Some require permits for work that costs $200 or more; in which case, you'll probably need to apply. Others don't require any paperwork for interior cosmetic changes. Whether you're working with a contractor or handling the installation yourself, always – always! – check your local ordinances before beginning any construction. Even if you've done other projects in the past without a permit, it's still a good idea to double-check beforehand.
Also, if you are working with a contractor, ask if they can take care of the permit for you and whether they require a fee for doing so.
How wide should the door be?
Before you get to work, you'll want to check the size of the door and the opening. Before you or your contractor purchase any materials, measure the area to ensure the door will fit properly in the allotted space. In most cases, a sliding barn door should be sized with a minimum 1" overlap on each side of the opening; in total, the door should be two inches wider than the opening.
If, however, the door is covering an area that requires extra privacy, such as a bathroom, you may want to add an inch of clearance to both sides. Sometimes, with a 1" clearance, there is a small crack that offers some visibility to the other side of the door; a slightly wider door should fix that.
Will I have to modify the existing opening in order to install the sliding door?
That depends on the structure of the current opening and your personal preferences. If your sliding door is simply replacing a standard swinging door, you will have to replace the interior wood casing – where the hinges were previously attached – with a fresh casing. If you're going for a cleaner, more modern look, you may remove the wooden casings altogether and patch the drywall.
If, on the other hand, you are creating a brand-new opening, you or your contractor will need to determine if it is a load-bearing wall and whether it contains any plumbing or electrical systems. Those two factors can have a big impact on the overall cost of the project and may require additional contractors. You'll want to take a look at them before the project begins.
Can my wall accommodate a sliding door?
Most sliding doors weigh no more than 100-400 pounds. Regardless, the support brackets cannot simply be installed into the woodwork, drywall, or plaster. You or your contractor will need to ensure the door track and supports are installed securely into studs in the framing behind the opening.
You can locate the studs using a stud finder or by cutting out a small section of drywall about six inches above the intended location of the doorway to find the header. (This cutout can be easily patched with drywall/compound.) Alternatively, you or your contractor can install a header board over the opening.
What type of barn door hardware kit do I need?
Barn door kits come in two general varieties: single and bi-parting. The first is designed for a single door that opens to the left or right. A bi-parting kit is designed for a double door, with one sliding to the left and the other sliding to the right.
Choosing the right kit simply depends on what type of door you're installing. Deciding between a single door and double-door arrangement is a bigger decision; it all depends on how you plan to use the door, your aesthetic preference, and the space you have available on either side of the opening. Neither style is better; some homeowners prefer the more dramatic look of double sliding doors, while others lean toward the more modern look and minimal space requirements of a single sliding door.
Another factor you should consider when investing in sliding barn door hardware is the weight of your door. Whatever tracks and hangers you choose, they need to be strong enough to support the door's weight, which can vary greatly depending on its size and material. In the RW online store, you can see the weight-bearing capacity of each kit.
Should I get a kit or individual hardware pieces?
In most cases, unless you're looking for a specific replacement part, we suggest investing in a hardware kit.
Getting a kit is much easier than scouring the internet for all the individual pieces. Plus, when you get a kit, you know you're getting all the pieces you'll need for your project, you know they're coming from a manufacturer you trust, and you know that the hardware will function together correctly and have a consistent aesthetic.
Get everything you need with one click in RW Hardware's online store.
With more than 140 years of experience, RW is one of the world's most trusted hardware brands. Now, with our online store, getting the high-quality specialty barn door hardware you need is easier than ever.
Whether you need a kit containing all the hardware pieces for a single or double sliding barn door, or simply a replacement part, you'll find everything you need at RW Hardware's store—in a variety of styles, colors and weight-bearing capacities. Visit our online store now!