When we think of barn doors, we tend to think of, well, barns. But you don't have to own a tractor to see that barn doors are beautiful—and functional. And now, as homeowners look to shake-up the look and feel of their living space, many are bringing barn doors into their homes.
Why do we love barn doors? Because they're more than just doors; they're statements; they're art pieces that move. The right barn door can bring a rustic touch or trendy pop of color to any space.
They're also unique. While they're beginning to appear in more and more living spaces – and Instagram pics – finding a barn door in someone's home is still relatively rare, making for a great conversation piece.
But barn doors are good for more than just Instagram pics. They're also functional, serving as room dividers, organizers, and a clever way to conceal pantries and appliances. They can also save you a lot of space. Barn doors require much less clearance than swinging doors, opening up room for furniture and décor and instantly making a space feel bigger.
Finally, a good barn door lasts a really long time. Unlike most traditional doors, barn doors usually don't need to be completely replaced if damaged. Instead, you can usually replace just one of their panels or hardware pieces, helping you save money in the long run.
Now that we've covered why homeowners love barn doors, let's talk about how you can incorporate them in your own space.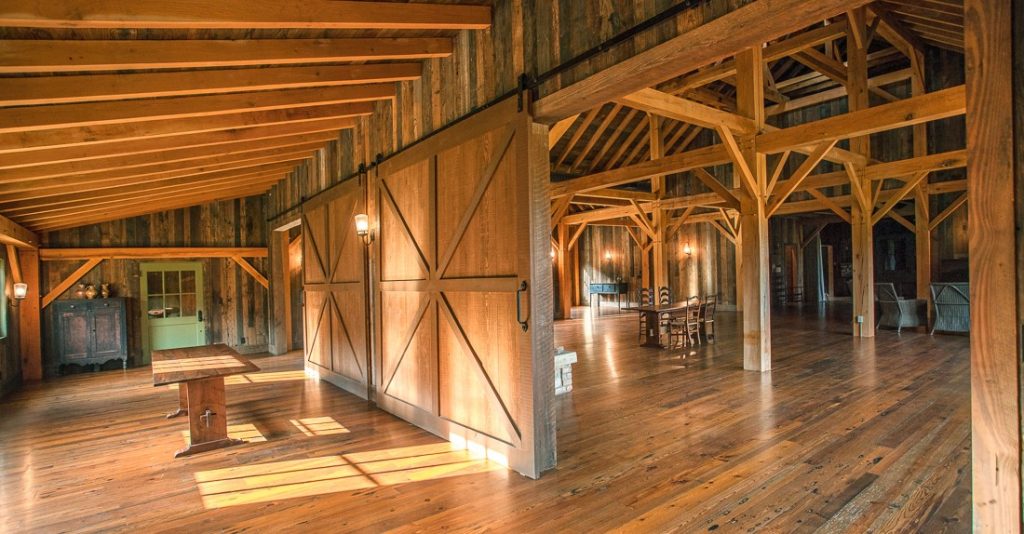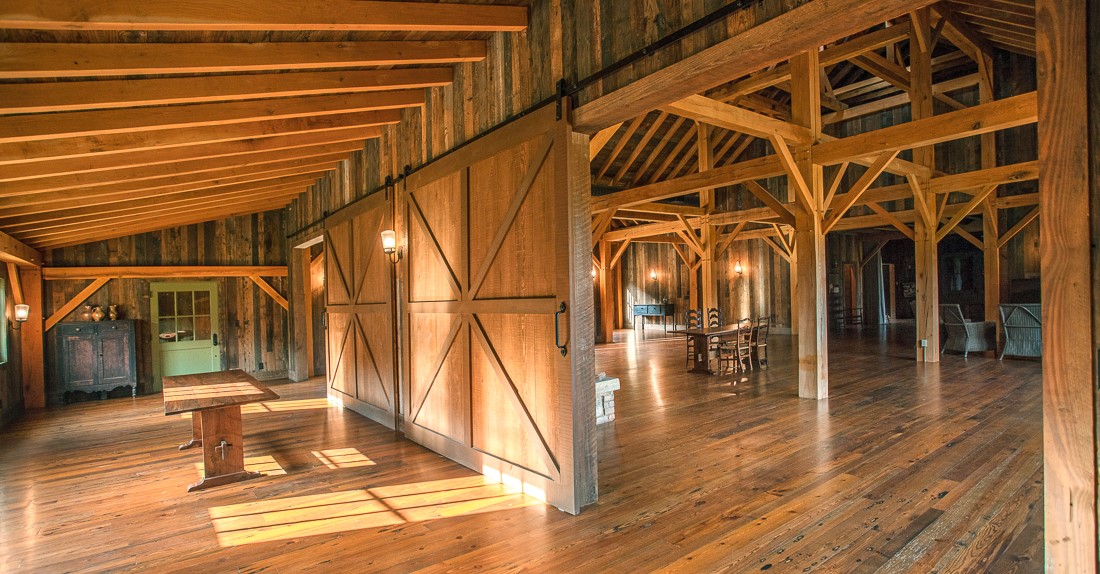 1. Go Against the Grain
Many homeowners leave their barn door neutral for a more rustic look, but there's no rule that barn doors have to be rustic. If you're going for a bolder, more modern aesthetic, try using your door as an accent piece, bringing a pop of pink or a burst of bright yellow into your space. Conveniently, barn doors are easy to repaint, making them the perfect canvas on which to experiment with new colors.
2. Hide Your Less-Than-Beautiful Appliances
One of the best things about barn doors is that they can conceal the less-than-beautiful parts of your home with a striking statement piece. Laundry machines are the perfect example; they're necessary, but they're also big, and even the best of them usually won't compliment the style of your home. Adding a barn door in front of your laundry room will hide these bulky machines, making your space feel organized and curated while giving you easy access to your appliances when needed.
Everything above can be applied to pantries, as well. While pantries are necessary, they can often make a space feel cluttered. Concealing snacks and supplies behind a barn door can help you maintain a clean look while keeping all the essentials within reach.
3. Boost Your Bedroom Space with a Sliding Barn Door for Closets
In theory, your bedroom should be the space in which you feel most comfortable. In reality, bedrooms are often cramped, with most of the space reserved for the bed, dressers and clearance for one or more swinging doors.
While you can't exactly lose the bed, swapping your entrance or closet door for a sliding barn door can instantly bring some much-needed space to your bedroom. Sliding barn doors require much less clearance, and you can use the extra space to add décor or furniture—or simply give yourself some breathing room.
4. Divide and Conquer
Instead of using a wall to divide a room, try a barn door instead. Barn doors instantly make a space more modular, allowing you to divide and combine spaces at will, while maintaining a charming look. You can even incorporate sliding doors with windows to increase your line of sight and open up the space.
5. Mirror, Mirror… on the Door?
Incorporating a mirror into your bedroom or bathroom barn door is a simple way to instantly make the room feel bigger, add light, and help you save wall space. Of course, you could mount a mirror on a swinging door, but barn doors always face the same direction, which means that you'll always have access to your mirror. Plus, you don't have to worry about damaging your mirror when the door swings open or closed.
6. Double Down
A rustic twist on French Doors, double sliding barn doors can be the perfect statement piece. Consider incorporating double doors as a room divider or as a way to connect indoor and outdoor spaces. In addition to their striking look, double doors make your space even more flexible, allowing you to open a single barn door or both to manage how one space flows into the next.
7. Take Things to the Next Level (or Don't)
If you've ever hosted a large party, you know how important it is to signal to your guests which areas of the house are open and which are off-limits. Barn doors are the perfect way to either block or open staircases, allowing you to keep guests on a single floor or open up your space for larger events.
The beauty of a sliding barn door is that, in its open position, it becomes a work of art; so, when you're not hosting parties, you can simply keep your door open, and it will naturally fit in with the room around it.
8. Color Coordinate
In addition to the door itself, you'll need several pieces of metal hardware to bring your sliding barn door system to life, including a track, trucks and handles, along with a few other pieces.
At RW Hardware, we offer our swinging door hardware products in a variety of colors and finishes, from black and pure white to cranberry, pebble tan, clear coat and more—so you can find hardware that matches your style and helps bring your vision to life. Take a look at more of our hardware colors and finishes here.
All the hardware you need is just a click away.
With RW Hardware's online shop, you can order all the specialty barn door hardware you'll need for your next project from a trusted manufacturer.
To install a sliding barn door system in your home, you'll need several pieces of sliding barn door hardware, including a track, trucks, handles and bolts. You'll find all of these pieces and more at our online shop, available in a variety of colors and finishes and designed to hold loads up to 5,000 pounds. You can either order parts individually or purchase everything you need in a barn door hardware kit.
RW Hardware has a 140-year legacy of manufacturing high-quality hardware for both sliding and swinging barn doors. We know how important the quality of our hardware is to you, and that's why we back up all of our products with a 10-year warranty—one of the best guarantees in the business.
Start browsing barn door kits and parts now at the RW Hardware online shop.