With countless sliding door designs available, this style of door is a perfect option for updating the door ways in your home. Not only do sliding doors look great, they're also incredibly functional. Whether to add privacy to a room or hide an undesirable décor element, you can improve the overall aesthetics of your home with sliding barn doors.
The Advantages of Using Sliding Doors
When most people think of sliding doors, glass panels leading to the outdoors often come to mind. However, sliding doors of all types have become a popular choice among interior designers for interior use. For example, in recent years, barn style doors have been a trendy option for adding rustic flair throughout the home, from country kitchens to living rooms. Barn doors don't always have to look homey, though. There are many ways to match the doors, hardware, pulls and latches to customize the decor of a room in traditional, modern and rustic styles.
Sliding barn doors not only look great, but can also benefit the functionality of your home. Whereas traditional doors use a hinged, swinging motion to open, sliding doors glide along a track instead. Normal doors can be hard to use in small spaces, as furniture placement can affect a doors opening and closing radius. On the other hand, sliding doors save space and are a great way to open up a cramped living area. They can also be used to conceal unsightly places around the home, like a cluttered closet, pantry, or overcrowded utility room.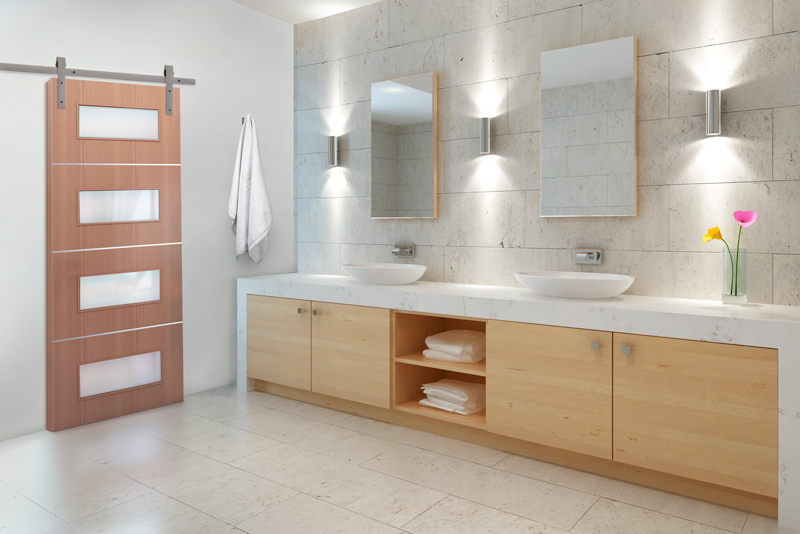 Applications for Every Room of the Home
Most homeowners use sliding doors to add a partition between rooms, or even to divide indoor and outdoor spaces. Here are several ideas for customizing the look and feel of sliding doors around the home:
Kitchen

Sliding doors can be a great addition to a kitchen space to conceal a pantry or food storage. They are also helpful if your kitchen area includes an entrance-way to a laundry or utility room. You can use a decorative rolling door to quickly hide these spaces from view when guests come over.

Dining Room

Create a divider between kitchen and dining room using a distressed wood door to match a countryside theme, or use a minimalist panel to brighten up a modern space. When closed, the door functions to prevent kids and pets from disrupting dinner party prep, for example. When your guests arrive, simply slide the door open to entertain your guests while you plate and present hors d'oeuvres.

Bedroom

Barn doors are perfect in a loft style space or master bedroom. You can use a large door to add privacy, for example, creating a divider between the sleeping area and bathroom. With so many door designs to choose from, you're free to get creative. Try a Japanese-inspired sliding wood and paper door for an airy feel, or incorporate a pair of sliding doors with glass panels to let natural light into the bedroom.

Home Office

Sturdy wood barn doors would make a great addition to a handsome home office! Match dark cherry or walnut wood flooring to the perfect pair of stained wood doors. Or use a pair of doors with glass panels to limit the visual separation between rooms.

Bathroom

Sliding door trolleys and hardware are available in just about any style and finish, there are many options to match the look of your bathroom. Get creative and embellish the door by using shelves or artwork.

Utility Rooms

Use rolling doors to add decorative flair to your home while keeping a laundry room or closet closed off when not in use. Try customizing the door with DIY supplies, like using chalkboard paint to turn a pantry closet door into a life-sized shopping list for groceries.

Outdoors

One of our favorite ideas for sliding doors is to connect a living area with the outdoors. For example, outfitting a wide outdoor entryway using large barn doors with inlaid glass panels. The panels will afford guests unobstructed views of your beautiful yard, and on warm days you can slide the doors open to let in the breeze. Rolling doors are the perfect way to create movement between indoors and one.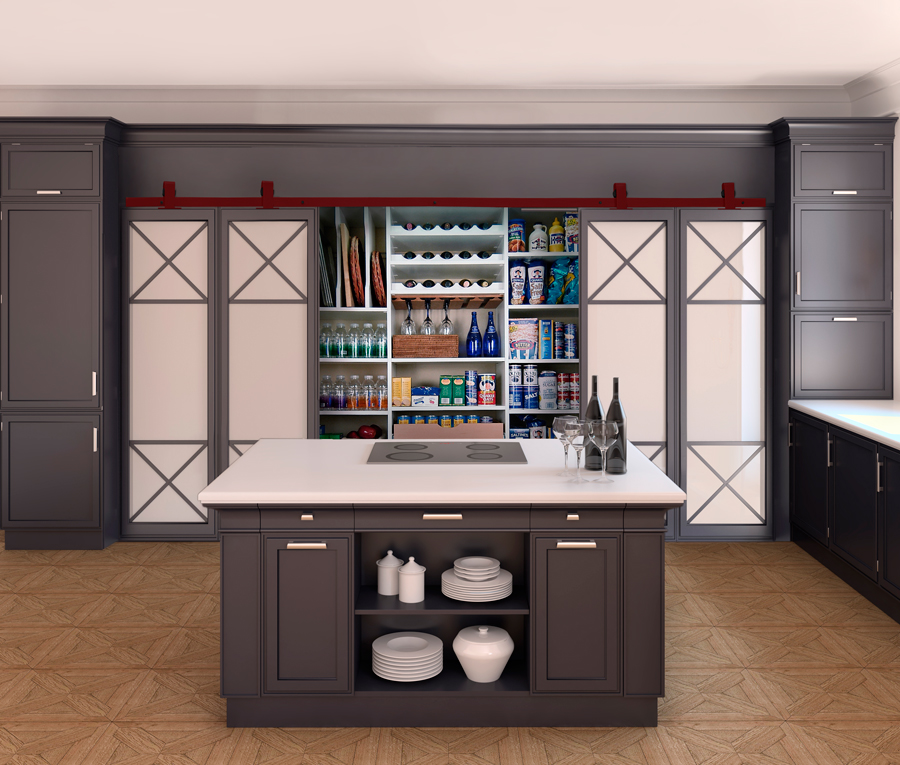 Choosing the Right Door
With so many options to choose from, here are a few factors to consider when selecting the right sliding door for your home:
Aesthetics

Consider big-picture goals and how you plan to visually incorporate your new sliding door. Are you looking for a minimal panel to blend in with decor? Or something to stand as the centerpiece of a bare room? You can shop around for the right door, or get creative with paint or stylish touches like antique handles or historic door hardware, which can add intrigue to an otherwise-basic door.

Brand

Consider manufacturers before you buy. Some brands, like Richards-Wilcox Hardware, offer custom design services to create unique door hardware. Also, look for manufacturers that include quality customer service support and helpful warranty options.

Maintenance

Choose a sliding door that's easy to maintain, especially if you're using it as an entryway to the outdoors. Doors framed in wood or aluminum are great options for facing dirt and dust.
Installation Overview
It's a cinch to install sliding doors over an existing entryway, and this will instantly update the look of your home without incurring unreasonable costs.
Tracks

For most rolling door applications, the track is mounted over the doorway. The door then rides smoothly on the open track, or can be attached using hanger assemblies. Preference for the style of track is usually based on budget or aesthetics.

Single VS Bi-Parting Doors

Sliding doors can be used alone, or in pairs as a set of bi-parting doors. Homeowners often choose which style of door to use based on the amount of room they have to slide the door. With insufficient room on either side to store a single large door, a bi-parting door is used instead.

Hangers

In order to ensure the longevity of the track system, hangers must be properly mounted. It's recommended to use no more than two hangers per door. Anything more than this can ruin the door and cause uneven track wear.

Mounting

Rolling door tracks are typically mounted to a wall, but can be attached to an overhead structure if sidewall mounting isn't possible.