As the real estate market recovers, space is once again selling at a higher premium in residential homes, including apartments, hotels, and lofts. Finding space saving options for these residential facilities, including a sliding door track system, can help apartment managers increase available space for their tenants, and thus improve the marketability of their properties.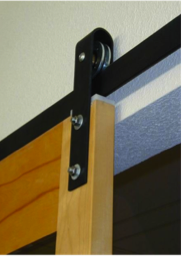 Sliding door hardware is easy to buy and install, and can greatly help to improve space efficiency within any home, apartment or other property.
A Recovering Real Estate Market
After the collapse of the real estate market during the 2008 financial crisis and subsequent recession, prices and demand plummeted and space become a lesser concern as large properties and rentals could be had for bargain basement prices. As the market rises, prices are on the rebound and space is becoming a greater concern.By most indications, the real estate market is now recovering. According to the National Association of Home Builders, the market is
returning to pre-crash levels.
A recent study showed that 59 of America's 350 metro areas have returned to pre-crash levels. Nationwide, the LMI grew to .090 points during 2014's third quarter and real estate experts expect a full recovery in 2015.As the market recovers, prices and demand will go up, even for modest-sized apartments and lofts. Within the hotel industry, prices are also expected to rise for hotel rooms, even small ones. Landlords and property owners seeking premium prices for their properties can enhance their marketability by finding ways to increase their useable space, including installing sliding door track systems instead of traditional swinging doors.
How Sliding Doors Can Help
Traditional swinging doors are terrible when it comes to space efficiency. The radius of the swinging door takes up several feet of floor space. While the area taken up by the door may not seem like much, consider this: The average swinging door takes up about 10 to 14 square feet,
according to Freshome magazine
. In a 900 sq. ft. apartment, that's a lot of real estate to give up.Sliding door systems take up far less space and allow furniture to be placed closer to the door, freeing up floor space in apartments, lofts and hotel rooms.Sliding door systems are installed on the exterior of the door opening. Some systems called pocket sliding door systems, which allow the doors to slide into the wall, can be installed where space allows.The track and roller system attaches to the wall above the door opening. The track is bolted to the wall, rollers hang from the track and the door attaches to the rollers. The track can be covered or uncovered, according to the owner's wishes. The door opens by sliding to the left or right. For large openings, dual sliding doors that meet in the middle and slide left or right to open can be installed.When installing a sliding door system, it's important to consider the space available on either side of the door, as this will determine whether a sliding system will work for that opening. In general, you'll need a little more than the width of the door available on one side or the other of the door opening to allow the sliding door to slide open. Not all door openings in an apartment, loft, or hotel will be able to accommodate this, but many will, allowing residents and property owners to save considerable space. Again, considerations such as space within the wall and the location of electrical wiring will determine whether this is an appropriate option. Advice from expert sliding door hardware suppliers like Richards Wilcox can help property owners determine whether a sliding door is the right solution for their property and what type of sliding door is needed.In addition to saving space, sliding door track systems also improve facility safety, as swinging doors can open and injure unsuspecting people in the path of the door. Sliding doors remove this potential risk. This is particularly important for hotels, who often face personal injury lawsuits and high insurance rates related to accidents that occur on their property.
Other Space Saving Hints
While installing sliding doors hardware can help increase utilizable space, it's not the only option property owners and tenants have for space optimization. Consider these other hints for space saving:
Optimize closets – Get the most out of your closet space by installing double-shelving in closets and also by installing hooks or a closet rod beneath the shelving. The more residents can store in closets, the less room they'll need elsewhere for storage.
Multi-functional furniture – Murphy beds and fold out sofas can increase utilizable space in your home. When not in use, these pieces of furniture fold up for easy storage. Storage beds – beds with drawers and cabinets built into the frame – also provide convenient space-saving options.
Smaller appliances – Smaller sized appliances can help make the most of a small kitchen. They also save money on energy. When purchasing appliances, look for their EnergyStar rating to determine how energy efficient they are.
More shelving – Installing shelving on bare walls in a home or apartment can help residents make good use of the vertical space in their residences. Having shelving available reduces tenants' need to purchase less space efficient solutions, such as book cases and cube organizers.
Wall-mounted televisions – Mounting the television on the wall can help home-owners avoid having to purchase entertainment centers to place the television on, thus saving considerable space.
With sliding door track systems and other space-saving tricks, property owners and residents can greatly improve the available space in apartments, lofts, and hotel rooms. To learn more about how sliding door hardware can boost your available space, contact
Richards-Wilcox
. Richards-Wilcox is a respected name in sliding doors hardware and accessories and can help property owners find the products that best suit their needs for functional, attractive sliding doors.
Sources:
http://www.nuwireinvestor.com/articles/the-us-real-estate-market-is-edging-closer-to-full-62339.aspx
http://www.city-data.com/forum/house/2164655-best-ways-increase-usable-space-smaller.html
http://freshome.com/2011/06/03/ingenious-door-sliding-system-for-saving-valuable-space-in-your-home/