A great barn door is useless without its hardware and installation. Though exterior sliding barn doors cater to multiple trends and industry needs, not many trend-seeking enthusiasts are aware of the importance in selecting durable and effective hardware. With sliding barn doors, you need to make sure you choose trusted hardware that withstands a high weight capacity and won't give out or rust.
Pre-Engineered and Packaged Hardware Sets
At RW Hardware, we offer door kits for single-parting, bi-parting, and slide-fold doors. Our sliding barn door hardware kits manufactured for metal and wood door assembly include everything you need to assemble your sliding barn door. However, in most cases, fasteners are not included with RW Hardware kits due to varying construction criteria.
Depending on the sliding door installed, our hardware kits include the following:
Track
Hangers with truck/apron hardware
Joint brackets
Center brackets with end blind
End stops
Floor center stop
Center stop bracket (if bi-parting sliding door)
Anti-jump blocks with fasteners
Bow handles
Flush pulls
Guide roller strip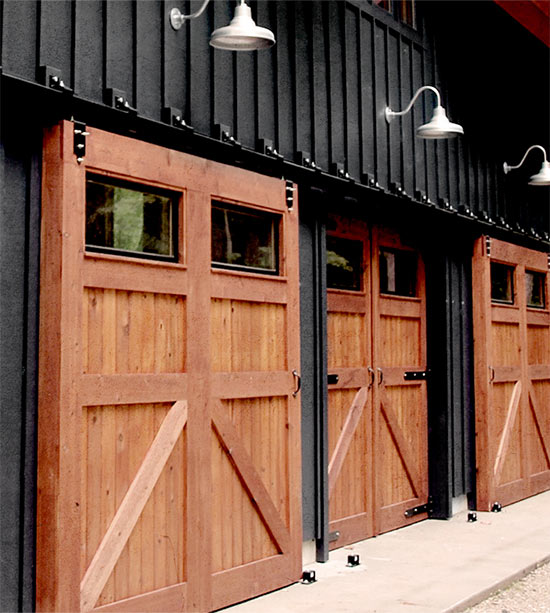 The Richards-Wilcox Patented Lock-Joint Concept
Unique and unlike any other sliding barn door hardware kit in the industry, our positive interlocking track joint brackets prevent horizontal track slippage or separation. As another benefit to our sleek and purposeful design, the mechanical installations are easy to complete and do not require welding.
Customizable to Your Needs and Preferences
Our sliding door hardware can be formatted to fit your operational needs and aesthetic preferences. For light or heavy-duty applications, we provide kits for installations as simple as 200-pounds or as heavy-duty as 5,000-pounds. The hardware kits can come in an endless amount of variations as you have the freedom to select your guide rollers, door pulls, and bow handles. You can also elect to include add-ons like a weather strip to further insulate your doors and protect your interior from the outdoor elements. With our 8 different finishes, including a clear coat to highlight the natural hardware, our finished product can either blend in or mark the cornerstone to your infrastructure, being the conversation piece to your visitors and clients.
Our 10-Year Warranty
We pride ourselves in holding the longest warranty in the industry because we believe in the durability and high quality of our products. If the hardware on your sliding barn door wears with irreparable damage within a decade's time, we are happy to replace it. 
RW Hardware: Let Us Supply Your Hardware Needs
After supplying hardware kits for exterior sliding barn doors for the past 140 years, we at RW Hardware have refined our technique and product to supply finished, top-notch products that do not require a space engineer's knowledge to assemble.
When requesting an order, all you need to supply are the following: the width and height of the opening; the width, height, and thickness of the door; door and jamb construction; and jamb and headroom conditions. Contact us today to receive a free quote and begin building your sliding barn door hardware kit.