Swinging doors are a common feature that add beauty, class, and practicality to a building. Also known as pivot doors, they are commonly used in residential, commercial, and even industrial settings.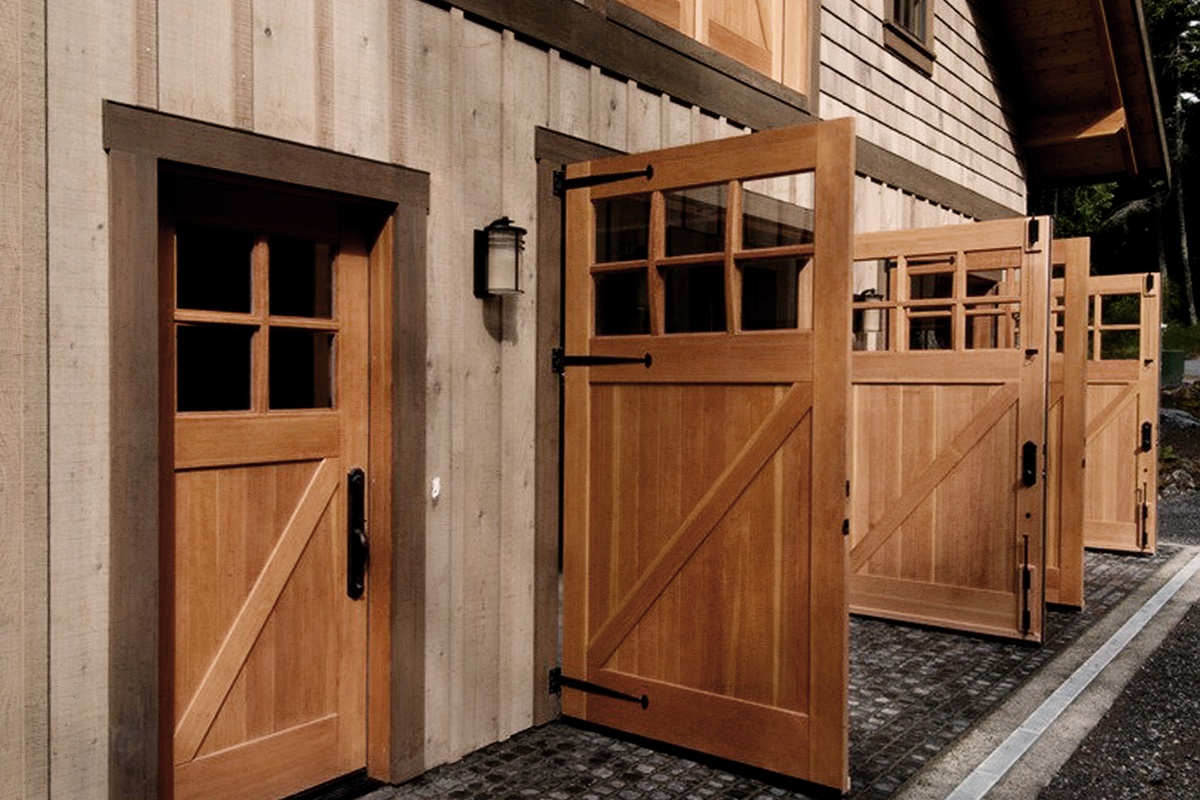 As they are made from various materials such as wood, metal, glass, and plastic, swinging doors can be designed to match any decor style. So, what are the most popular swinging door applications?
Swinging Door Applications
Versatile in purpose, swinging doors are used in a variety of settings. Depending on the surrounding structure, swinging doors can be designed with various features, such as windows, screens, decorative panels, and specialty hardware, such as locks, handles, and hinges.
Residential Swinging Doors
In a residential setting, swinging doors are commonly used as entry doors, interior doors, closet doors, and patio doors.
● Entry swinging doors usually swing outward, made from various materials depending on the homeowner's preference.
● Interior swinging doors separate rooms or provide privacy and are equipped with features like locks or decorative glass panels.
● Closet swinging doors are often customized to match the design of a room.
● Patio swinging doors are often equipped with features such as screens or integrated blinds.
● French swinging doors are a popular choice for exterior doors as a stylish and elegant entrance to the home or as interior doors, opening into a living room or a sun room.
● Garage swinging doors, also known as swing carriage garage doors or barn-style doors, are similar to traditional barn doors and provide great curb appeal.
While the materials used to make swinging doors vary, wooden swinging doors are the most popular due to their warm, rustic appearance.
Swinging door hardware also varies, including knobs or handles, hinges, and locks. The style and finish of the hardware can also be designed to match the home's décor.
Commercial and Industrial Swinging Doors
Swinging doors also have a wide range of applications in commercial and industrial settings, commonly used in restaurants, retail stores, hospitals, factories, and warehouses.
The materials used to make swinging doors in commercial and industrial settings have a little bit more purpose than matching an aesthetic, like in a residential setting. For example, steel and aluminum are popular materials for industrial swinging doors because of their strength and durability. In commercial settings, glass doors are often used to allow visibility while also providing an attractive and modern look.
The hardware used in commercial and industrial doors is typically more heavy-duty than in residential settings. Hinges, handles, and locks are designed to withstand frequent use and heavy traffic. The difference between commercial and industrial swinging doors is often related to the security and durability they require.
Swinging Door Hardware
Interior and exterior swinging doors operate similarly, though the hardware they use can give them an entirely different look and feel. Perhaps the most significant of this hardware is hinges.
Strap Hinges
Strap hinges have long, narrow straps or plates that attach to the door or gate and shorter plates that attach to the door frame or post. They may be decorative or heavy-duty, and mounted on the wall or directly to the frame. Depending on the requirements, they come in various thicknesses, able to support doors that weigh greater than 5,000 lbs.
The door's weight will determine whether they are manually or power-operated, which determines the weight limit of the ball-bearing and disk-bearing hinges.
Heavy-Duty Hinges
Heavy-duty hinges are a popular application for swinging doors that are larger and heavier than average. Commonly used in commercial and industrial settings, heavy-duty hinges are designed to withstand frequent use, heavy loads, and high traffic. With this in mind, they are often made of materials such as stainless steel, brass, and wrought iron, which are strong and resilient.
The development of heavy-duty hinges is largely due to computer-aided design and precision machining, allowing these applications to be made with greater accuracy and strength while resisting wear and tear over time.
Decorative Hinges
Decorative hinges serve both functional and aesthetic purposes, adding a touch of elegance and sophistication. These hinges come in various shapes, sizes, and finishes, made of various materials such as brass, bronze, or wrought iron. While decorative hinges can be used in different settings, they are most common in residential buildings.
Different Mounting Styles
There are several different hinges and applications best suited for each situation, and each require a specific mounting style. Heavy-duty and decorative hinge mounting styles impact the overall aesthetic and functionality of a door. Consider the following as popular examples.
● Strap hinges with half-butt jamb sections, such as framed mount half surface strap hinges
● Full surface mount strap hinges with jamb sections, such as offset hinges or hinges without offset
● Center strap hinges on slide-fold doors
● Back plates used to prevent damage to the back of the door by adding reinforcement
Energy-Efficient Applications
Swinging doors can be designed to be energy efficient, with features such as weather stripping, insulation, and other anti-corrosion finishes. Not only do these applications prolong the life of the swinging door, but they also improve the energy efficiency of residential and commercial buildings by reducing heating and cooling costs.
Key Considerations When Choosing Swinging Door Applications
Whether installing outswing garage doors or decorative patio doors, the following considerations should be kept in mind when choosing interior and exterior swinging door hardware.
● Swing door size, including the width, height, thickness, and weight
● Frame and jamb construction
● Pintle type and location
● Frequency of swinging door use
Experts in Swinging Door Hardware
At RW Hardware, our expert team offers 140 years of experience in the industry, leaving a mark of pride and an unbeatable level of experience. Hardware is a fundamental element in swinging doors, and through innovative engineering, we help to make your swinging door dreams come true. Are you ready to get started? Contact us today!