You probably don't spend as much time thinking about garage doors as we do (not many people do!) but you have to admit—garage doors are pretty important. In fact, the right door can raise an entire property's curb appeal, define or compliment the property's style, and even transform how and when you use your garage.
At RW Hardware, we have been manufacturing swinging garage door hardware and swinging carriage door hardware for well over a century.
Over the years, we have seen time and time again how the right door—with the right hardware—can transform a garage's look, feel and function. A dusty home garage becomes an unforgettable event space or dining room. An oil-stained auto shop transforms into a trendy modern office. A detached country garage blossoms into a beautiful stable.
The right door really does make all the difference.
Today, let's take a closer look at swinging doors and how they can make a big difference in your garage.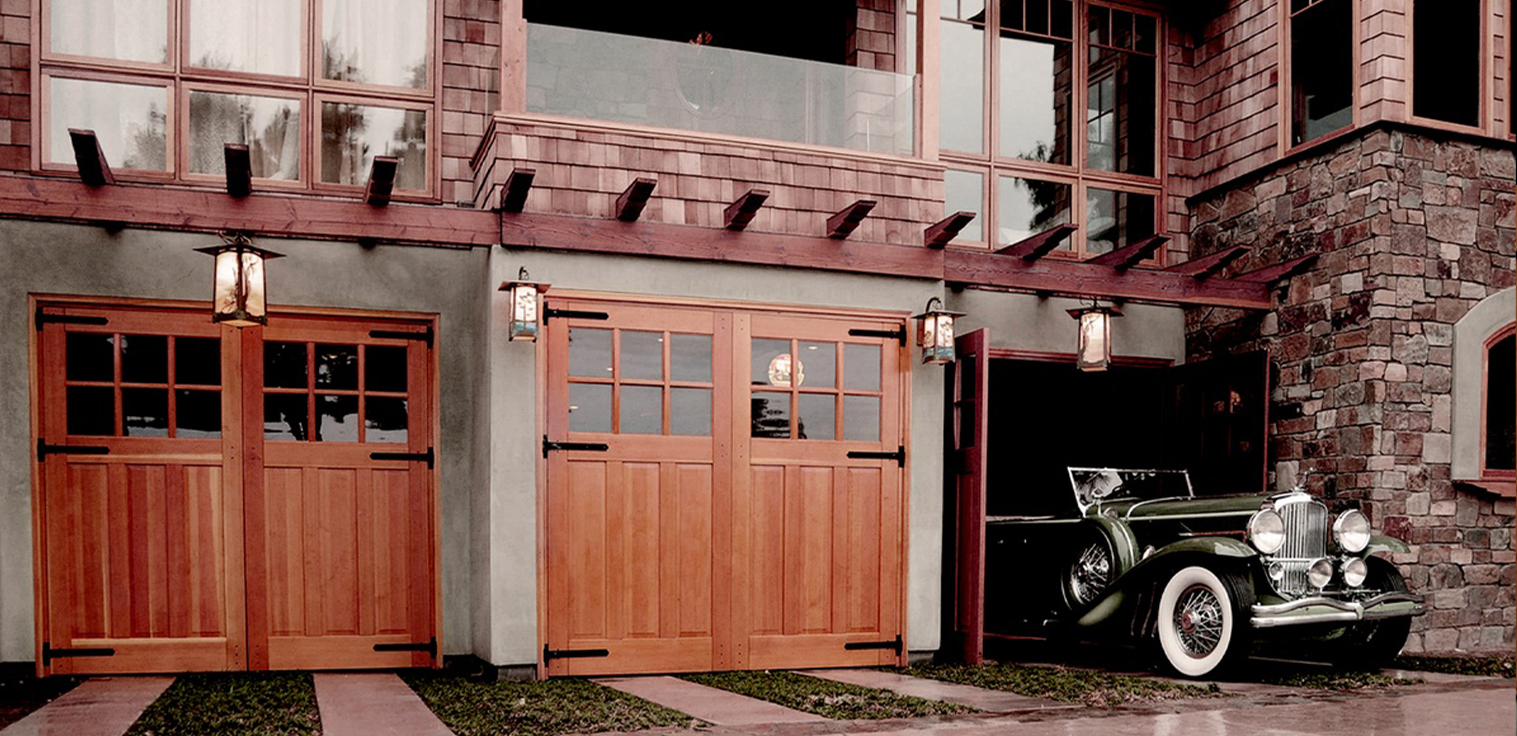 Are swinging doors better than overhead?
The default door model for most residential garages is the powered overhead door, which opens and closes vertically and moves along a track suspended from the garage's ceiling.
However, while there are certainly applications in which a powered overhead might be the right choice, swinging doors have several advantages that make them a better fit for many homes, offices, farms and historic properties:
Swinging doors have better curb appeal. The first and most obvious advantage of swinging doors is that they give your garage a unique look, helping you stand out from the many properties that use overhead doors. Whether you want your garage to look like an antique carriage house or a modern space with a retro spin, swinging garage doors can transform its look and feel.
They keep your garage cleaner. When raised, overhead doors often drop dirt and other debris onto your garage from above. That's the last thing you want when you're trying to enjoy a drink in your new den or store an antique automobile. By moving outward, away from the garage, outswing garage doors keep debris out of the space and help keep things clean.
They increase your garage's ceiling clearance. With swinging doors, you no longer have to worry about whether an overhead door will clear objects that are tall or hung from the ceiling. That gives you more flexibility with the interior's design and storage.
They are safer. When in their fully opened position, overhead doors are suspended from the ceiling above a garage's interior, which means there is a small but meaningful risk that the door's rails could detach from the ceiling and collapse onto the space below. Swinging doors eliminate that risk, allowing you to feel safer and more comfortable in your space.
They can easily be manually operated. While most overhead garage doors must be electric-powered, swinging doors are much easier to operate manually. You may still opt for a powered model of swinging door, but it's nice to have the option of opening your door by hand when you want to save electricity or avoid the noise of a motor.
How to Get Started: Finding the Right Hardware for Your Door
Ready to start building your own swinging door?
First, you'll need to choose your doors. Most swinging doors are made of steel, brick, concrete or wood. Finding the right door depends on matching the material and aesthetic to your garage's look and function.
Next, you'll need to find the right hardware, which is just as important as finding the right door. For your swinging doors, you will need several pieces of hardware, including strap hinges and pintles. Learn how to select the right hardware for your door with our step-by-step guide.
That's where we come in! For more than 140 years, RW has manufactured some of the world's best hardware for sliding and swing carriage garage doors. Designed to bear up to 5,000 pounds, withstand the harshest conditions, and complement the aesthetic of any door, our hardware is used in homes, offices, industrial buildings, farms, and historic sites across the country.
Now, thanks to our online store, ordering swinging door hinges and other parts is easier than ever. Click here to explore our selection of swinging door hardware kits, decorative hardware and more.