When you're selecting stable hardware for your horse barn, you're making a stable investment. It's hard to know how to take the reins with stable equipment and horse stall hardware supplies, but as barn hardware experts, RW Hardware has been helping homesteads for 140 years.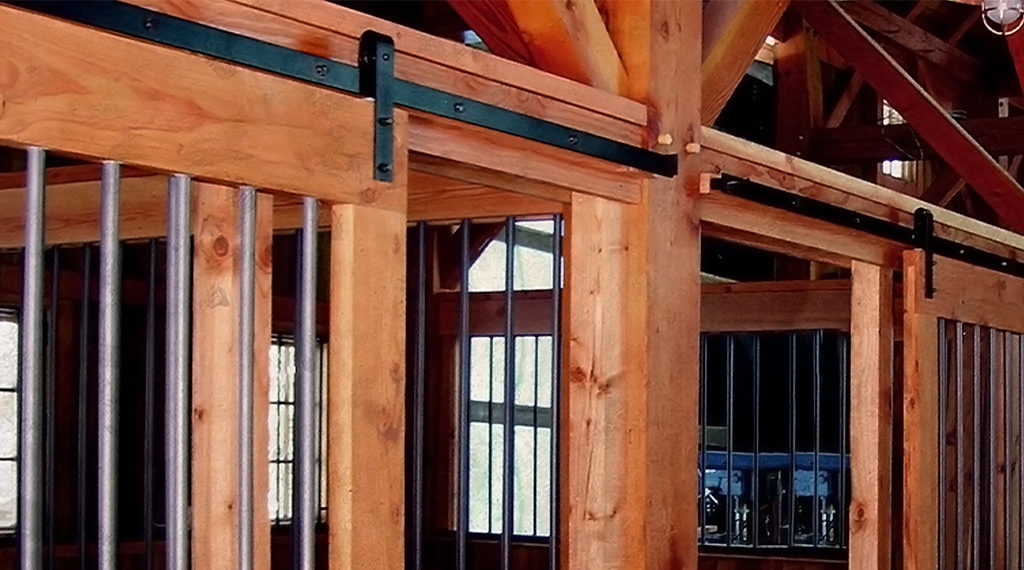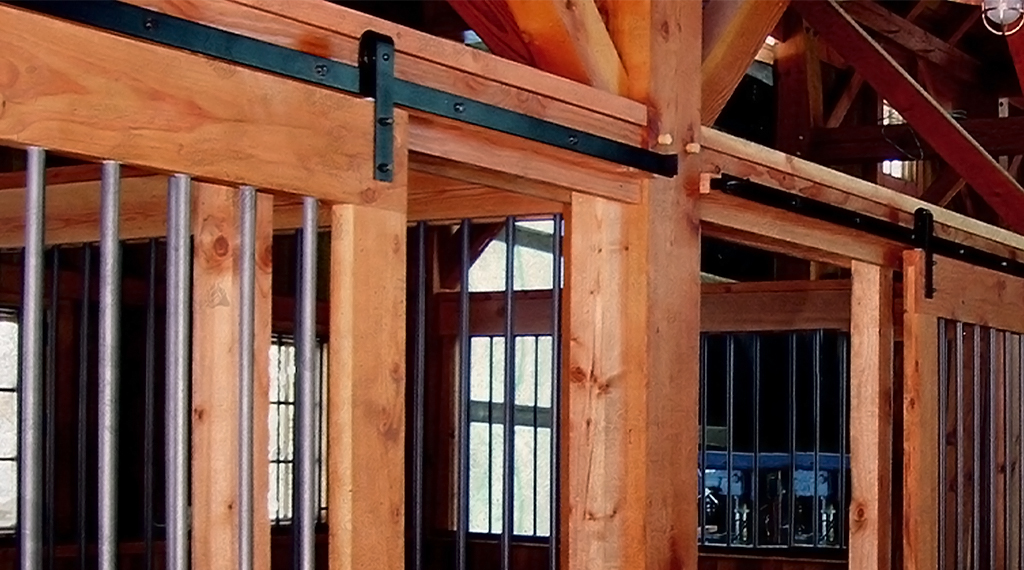 Type of Door
There are many doors for a barn-builder to explore. Will you choose swinging, sliding, bi-parting, or a combination of the above?
For an interior stall door, you'll want swinging doors with strap hinges for tight closure and added security and functionality. While some clients go for the half dutch door approach because it's quite cute to see a horse peeking overhead, experienced equestrians are aware of how clever and devious horses can be, and how they like to chew on anything. Cap horizontal wood edges so that horses can't chew them. Additionally, know that many horses feel more secure when they know their stall is their own private bedroom anyway. An enclosed 14 x 14' stall and 8-12' ceilings with a skylight makes for one happy horse.
For an exterior barn door, you'll likely want it to be a sliding door to save space. A common mistake that owners make is choosing lightweight doors. While they may be easy to move, they don't have the security or insulation of a heavy one. It doesn't need to be light to be easy to handle: box track barn door hardware from RW has the highest load capacity, with the highest ease of use. With our materials, 5,000 pounds of door can be pushed with just 12 pounds of pressure.
Latches
Stall gate latches are essential. We've crafted and even revived a number of antique latches and hardware applications, but it's about more than getting the right look: it's about getting the right security for your horses and your stable supplies and equipment.
Lock all gates properly with latches. Never leave one partly latched – horses are opportunists and clever escape artists, and can blow through barn supplies when left unattended. (Hide your hay bags, folks!) Lock the door to the feed room, using safety latches and chains or appropriate clips. A horse that gets out of his enclosure can pig out on feed or supplement, go whole hog on watering buckets, and potentially get laminitis (not to mention the serious stable clean you'll need to do after the escapade).
Equine Hardware That Endures
Choosing doors, latches, hinges, and track hardware with peak durability and longevity are of the utmost importance, because when it comes to the safety of your animals, the quality and craft of your hardware is paramount. The right choice can give you the refined rustic look you want, and the durable functionality you need. The elements and the horses themselves (and, without being TMI, horse excrement and urine can be corrosive if one isn't careful) can take their toll on conventional hardware. RW hardware has been a mainstay for 140 years, and all of our hardware has specialized coating and finishes to fit your look and guard against weather and wear for years to come.
Steering you in the right direction
Have you herd about RW's equine barn design capabilities? Contact us to consult directly on your barn or stable, and we'll make sure everything, from the saddle racks to the sliding box track hardware, is in its right place. It can be a series of overwhelming decisions, but we'll help spur you to make the best decisions for you and your horses.