Whether you're embarking on a new project at your stable or sprucing up your existing space, doors play a paramount role. They offer protection and privacy, but the unsung hero of any door setup is the hardware. The market offers a myriad of swinging door hardware and choosing the perfect hinge will significantly boost your door's functionality. This article delves into three types of strap hinges and suggests the ideal scenarios for each.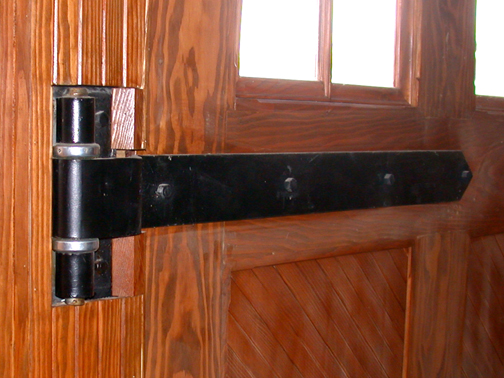 Strap hinges are frequently seen on doors in outdoor environments, like a garden gate, or being used as the perfect stall door hinge in a stable. One of the standout features of strap hinges is their suitability for heavy-duty applications. When dealing with heavy, solid wood or metal doors, strap hinges offer much needed robust support. So, if you're in the market for heavy-duty door hardware, strap hinges could be your go-to option.
With a wide array of designs, sizes, styles, and materials to choose from, strap hinges offer incredible versatility to match your specific needs, each offering unique resiliency and style advantages.
1. Decorative Strap Hinges
As their name suggests, decorative strap hinges can be the perfect decorative element to accentuate the overall aesthetics of the room. They can add a rustic touch to your interior spaces, such as a vintage-styled cupboard, and your exterior spaces, such as a carriage garage door.
Overall, these hinges are the same as your standard strap hinge, but with a curative design. Decorative strap hinges are best to use when you want to make a statement with your hardware by upgrading a classic strap hinge to a more modern or unique aesthetic.
2. Industrial Strap Hinges
As their name suggests, industrial strap hinges are ideal for heavy-duty industrial applications. They are designed for instances where the door size, weight and frequency of operation is greater than normal. RW Hardware industrial strap hinges come in a thicker material and longer lengths to accommodate industrial needs. In addition to the standard industrial strap hinge, there are heavy-duty strap hinges that are made to handle doors up to 6,000 lbs. They also come in ball and disc bearing to accommodate different loading needs. An additional benefit to industrial strap hinges is the added safety and security they provide.
You might find industrial strap hinges on animal enclosures and gates, in a medical or storage facility, a warehouse, and more.
3. Stainless Steel Hinges
Known for their durability, longevity, and hygienic propreties, stainless steel strap hinges are a perfect solution for applications that are in coastal environments or require a higher standard of sanitation. Due to the strength of stainless steel and its excellent wear resistance, these hinges are often preferred for doors that see a lot of use.
Stainless steel hinges are an excellent choice for garage door hardware. Their strength makes them suitable for heavy-duty applications including, bi-parting door hardware or swinging door hardware, thanks to their ability to withstand constant opening and closing.
Another significant advantage of stainless-steel hinges is their . This feature is critical for outdoor hinges that are frequently exposed to rain and moisture which can cause rusting and damage over time. In addition, stainless-steel strap hinges are a must-have when utilizing hardware in any sort of aquatic environment or those that live in coastal areas. The rust and corrosion resistance allow the hardware to maintain its aesthetic appeal for years to come, providing a lasting hardware solution for any door.
Hinge Back Plates
Something else to consider when choosing a type of strap hinge is a hinge back plate. A back plate is used when bolting strap hinges to a door to distribute the force of the fasteners over a larger surface area, thus preventing damage to the door. Our team at RW Hardware always recommends purchasing a back plate to go with your hinge to protect your door and extend the longevity of its overall use.
Final Thoughts
The hinges you select for your doors, whether indoors or outdoors, can greatly impact the overall look and functionality of your space, and a back plate can help extend the longevity of your door.
While the types of hinges discussed here provide a solid starting point, remember that the best hinge for your project will depend on your specific needs and preferences. A well-chosen hinge enhances door functionality, contributes to the room's aesthetics, and can stand the test of time. As such, take the time to explore your options and choose the hinge that best complements your door and overall space. If you have any questions, reach out to our hardware experts to help you determine which strap hinge is best for you.