In facilities where space is at a premium, or large, heavy doors are needed, industrial sliding doors can provide a great practical advantage. These heavy duty sliding door tracks are available in a variety of convenient formats and have a wide range of application in factories, agricultural pursuits, warehouses, zoos, and other facilities.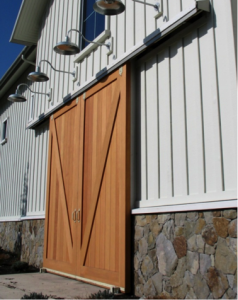 Space, particularly in factories and warehouses, is selling at a greater premium these days, and over time it will likely become even more expensive. Finding methods to maximize usable space in facilities can help organizations forestall overgrowing their facilities. Industrial sliding doors are a valuable tool in a facility manager's efforts to get the most out of their facilities.
Space isn't their only concern, however. Facilities managers also have issues of safety, security and ease-of-access to deal with, and sliding doors can also offer solutions to these matters. Consulting with industrial door specialists concerning sliding door hardware and accessories can help facilities managers find solutions that work for their individual needs.
Benefits of Industrial Sliding Doors
Industrial sliding doors sit on specialized tracks and slide to the side or fold to open. The track system makes it easy to install a heavy door that is easy for users to open and close. Because these doors slide or fold rather than swing open or close, they take up far less space than traditional doors. Consider these advantages of sliding doors.
Space – Conveniently placed on tracks, sliding doors take up far less space than conventional swinging doors. Space saved can help increase a facility's capacity for storage and operations. Also, because doors are not swinging to open or close, there's less opportunity for personnel or equipment to be damaged by being hit by the door.
Ease-of-access – Conventional industrial doors may be too heavy for your facility or may prove too difficult to open and close. Doors that slide on a track are easier to quickly open and close, providing convenient access for users. Quick entry and exit can be a key safety concern, so having a convenient means of entrance and egress can be helpful to facilities managers.
Energy efficiency – Sliding doors help facilities avoid drafts or air loss that can run up heating and cooling costs. Sliding doors fitted with seals can help ensure facilities stay warm in the winter and cool in the summer. Also, when weather and circumstances permit, sliding doors can be opened to provide ventilation.
Sound insulation – Industrial sliding doors can help muffle outdoor and indoor sound, preventing what's going on outside from being a distraction to operations within your facility, and conversely preventing noise generated by your activities from disturbing neighbors.
Design Considerations
There are several types of sliding door track systems available to facilities in need of a space-saving door solution. The type of door chosen will likely depend on the individual needs of the facility.
The basic design of a sliding door involves a track mounted above an opening. The door sections used in the sliding door assembly are equipped with hangers that move on an open track or within an enclosed track.
Some factors to consider when choosing a sliding door track system include the size of the opening, safety concerns, ease of maintenance and repair, and the weight of the door.
With regard to weight, enclosed track doors are capable of handling a variety of weights. Enclosed track doors can handle lightweight doors of 200 to 400 lbs., medium duty doors weighing 600 to 800 lbs. and heavy-duty doors weighing up to 5,000 lbs. Flat tracks typically can handle doors weighing 400 to 800 lbs. Also, lighter doors are well-suited to single door systems, while heavier applications (doors weighing more than 600 lbs.) will likely be best served by bi-parting doors.
For small openings, a single sliding door section will likely be sufficient. For larger openings, bi-parting doors (two door sections that slide in opposite directions to open and back together to close), may be needed. Sliding door specialists can help advise facilities managers concerning what type of door is needed.
Whether to mount the tracks inside or outside is a key consideration facilities managers will need to address. Mounting the tracks outside can help save space inside, but the tracks and hangers will be exposed to the elements. Closed track doors with protective canopies can mitigate this risk, however.
Ensuring the sliding door has enough track to open and close is also an important consideration. Facilities will need twice as much track as the length of the door to ensure it can adequately open and close. When sliding doors open, they should be able to slide back far enough to leave the opening fully exposed. Lengths of track typically come in the following lengths:
6 feet
8 feet
10 feet
12 feet
20 feet
Lengths of track may be welded together to accommodate the length needs of the door. The amount of room available for a track may impact the decision of whether to have a single or bi-parting door, as bi-parting doors will take up less space on the side of the opening than a single door would.
Open track doors are easier to access for maintenance and repair work, but they are not as shielded from dirt, grime, and other sources of damage as closed track doors. Tracks for industrial sliding doors are typically mounted to the wall facing the interior or exterior of the facility using sidewall brackets. In some cases, these mountings may be impractical or undesirable, and the track may hang from the ceiling instead.
Consulting with sliding door experts at Richards-Wilcox Hardware can help facilities managers choose the industrial sliding doors that are right for their facilities. Richards-Wilcox Hardware was established in 1880 and is a supplier of heavy-duty hardware for doors, including sliding door hardware and accessories for zoos, barns, factories, and warehouses, all sold through a trusted network of sliding door vendors. As a member of AZA, CAZA, Timber Frame Business Council and the USGBC, Richards-Wilcox has a solid reputation in the industry.
Sources:
http://joburgwest.getitonline.co.za/2013/11/05/top-10-benefits-sliding-doors/#.VQHfgfnF8sw
http://www.ehow.com/list_6146487_advantages-sliding-door.html
https://www.rwhardware.com/products-listing/sliding-barn-door-hardware/