Small spaces share all kinds of functional and layout challenges, no matter what use they fulfill. A small bathroom, a tiny house, and a one-room loft share similar characteristics in their need to maximize every bit of space.
Interior sliding doors offer a functional fix for issues like limited floor space, lack of room for a swinging door arc, and the need for ease of operation. As a bonus, they can add a pleasing aesthetic value to a room, with choices available in both doors and hardware.
A pocket door is a common space-saving solution in small spaces, but with a renovation it requires more costly demolition and professional installation to encase the mechanism in an existing wall and ensure proper support. If a pocket door should malfunction, detaching from the track or the support mechanism, it is extremely difficult to access and costly to fix.
A confident Do-It-Yourselfer can add a sliding door, as long as you can locate wall studs or install a header board to secure the track. Sometimes hiring a professional is advisable, and it is usually a simple job for a pro.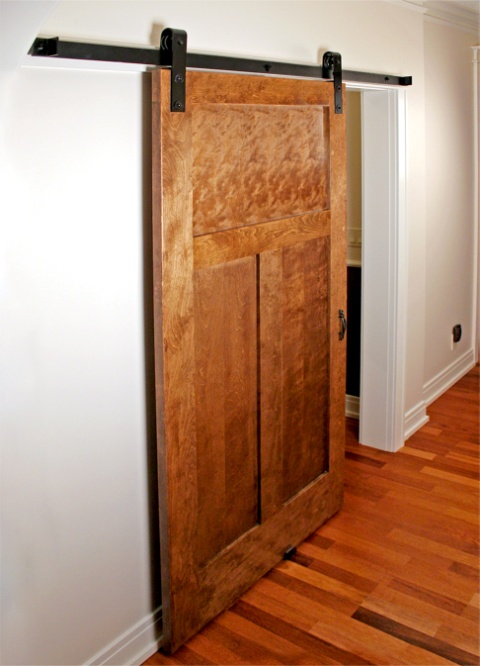 Advantages of a Modern Sliding Door
Today's sliding doors have come a long way from the old barn doors of the 19th century that relied on hardware using unstable open flat track systems. New sliding flat track hardware features great functionality with anti-jump blocks and floor guides and to keep sliding doors in position and well-seated on the track.
Today's decorative overhead sliding door hardware and track systems adapt to all kinds of interiors, reinforcing other style and design elements through a selective use of colors, materials, and styles.
Before installing these new doors in your home or space, it is critical to have the correct sliding door hardware for the job. Sliding hardware that is of high quality gives you both the style of door you want and the durability and ease of use you need. Invest in sliding doors hardware and track systems that will work well in your space and which come recommended by professionals. After all, you end up getting what you pay for.
Here are some ways sliding doors help maximize small space usage while enriching aesthetic appeal.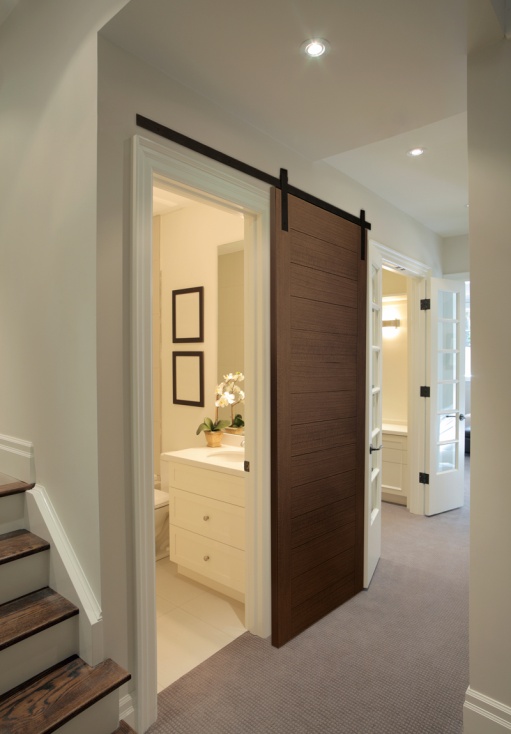 Residential Settings
Sliding bathroom Door
– A small half-bath or powder room off an entryway or kitchen is a great location for a sliding door. Often there is just no way a door can swing open into such a space and have it remain functional or comfortable. Customize the door size to any width of opening and a sliding door makes the perfect fix.
The sliding door is an opportunity to add interest to room decor. Choose among materials from smoked glass to metal or wood. You can paint the door to blend in with the wall or to become a bold color accent. Choose sliding door hardware that picks up color from existing metal features in the room or which add contrast.
Loft or Tiny Home Use
– More than ever before, space is at a premium in today's urban environments. Small spaces can either seem cluttered and overcrowded, or become models of efficient design. Sliding doors are a boon to anyone living in minimal house or apartment settings. They help designers and home DIY enthusiasts transform rooms—or the one, single room of a studio unit, for example—into multi-functional spaces.
Concealment
– Need to hide cluttered, unsightly, built-in floor-to-ceiling shelves used for limited storage space? Conceal shelving behind an attractive sliding door that can be left open for easy access, or closed to conceal the contents. It creates usable space in front of the slider to set up extra seating for guests. Here's another option: Straighten up those shelves and turn everyday storage items into neat, interesting displays, by grouping like colors or like items (glass jars, books, spice jars). Needed items remain handy and add some beauty to the room, with the sliding door open as an architectural point of interest.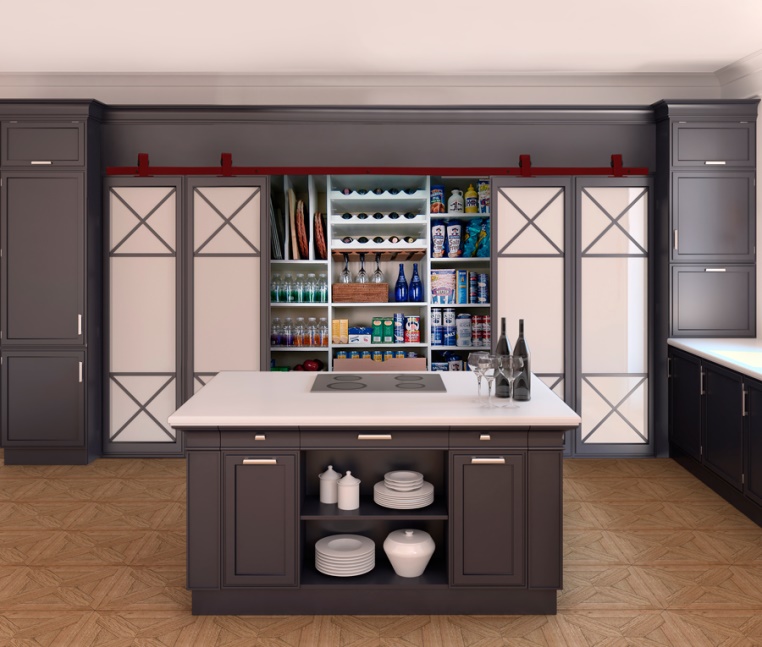 Multi-Functional Rooms
Many small homes combine kitchen, dining, and living areas (and sometimes the bedroom, too), in one open room. Even large homes are designed with this open plan for modern living. At times it feels better to sit down for dinner with guests without having a messy kitchen on display. Installing a sliding door as a room divider or baffle is a way to create two rooms from one. Even if it doesn't extend fully across the room width, it will serve as a visual screen and become an attractive design feature.
Oversized TV monitors in multi-function entertainment spaces are often the bane of interior decorators and wives as well. Conceal those unsightly screens with sliding door track systems.
Sliding door hardware can be the perfect way to reconfigure your layout and maximize the livable space in your home. Use your imagination and design a space that shows off your personality and creativity through the use of sliding doors hardware. The sky is the limit when it comes to remodeling or subtly changing your home.
Install sliding door hardware to close off an underused closet space or awkward nook, and … voila! It's an easy, inexpensive way to add on an entire room, in a sense, with no intrusive construction or interference with existing walls and floor. Many a new office, guest room, or reading corner has been inspired by the need for expanded space.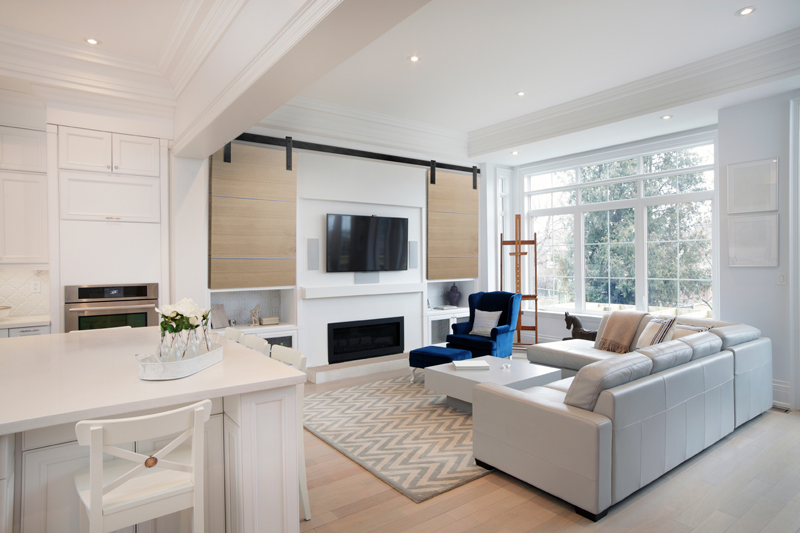 Antique Sliding Barn Doors for Home Interiors
These are gaining in popularity as great, adaptable features that fill several needs at once. The oversized dimensions of antique barn doors make them a perfect fit as a kind of wall extension, and cut down to custom sizes as needed. They are ideal for many of the uses described above, and lend an authentic vintage look, reinforced with vintage style barn door sliding hardware.
Depending on the room style, they may add a nostalgic feel, referencing back to the days when many families had a barn, or they introduce a softer, natural contrast to the hard-edged materials in more modern interiors. As a bonus, sourcing authentic reclaimed barn doors is a very green way to go, recycling often old, high-quality hardwoods, with naturally weathered colors or faded paint.
Overhead Sliding Door
There are several varieties of sliding door hardware available. Hangers that attached to doors on the front come in many types of designs, colors, and finishes with standard wheel bearings and quiet wheel bearings. In addition, there are top mount hangers to attach to the top of the door itself to let the aesthetics of the door prevail.
Flat tracks can be for interior use, but can also be used in exteriors for deck and hot tub screens, sliding garage doors and gates. Richards-Wilcox offers steel hardware in different powder coat finishes, from black to bronze or aluminum. Vintage style barn door hardware, often specified for historic building renovations, reinforces the nostalgic feel of a traditional barn door. Manufacturers like Richards-Wilcox Hardware offer contemporary styles and reproduce historically accurate styles of hardware.
Sources:
1. http://www.abeautifulmess.com/2014/09/sliding-door-solution-for-small-spaces.html 2. http://www.houzz.com/photos/121143/sliding-barn-door-rustic-bathroom-other-metro There are many sliding door options to choose from!