Zoos play a critical role in educating the public about wildlife and fostering support for policies that protect endangered species and habitats. Designing safe zoos that allow safe access to animals while also providing them with a sound quality of life is imperative to allow these institutions to accomplish their mission.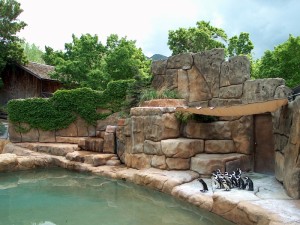 When building exhibits, zoos must balance the desire of visitors to see animals in a naturalistic habitat with safety and issues related to the needs of the animals housed. Facilities must take great care in designing exhibits, including their selection of zoo exhibit hardware, and zoo gating and access doors for holding areas when animals are not on exhibit.
Zoo Attendance Stats
Creating a zoo experience that is informative and safe for visitors and which also meets the developmental and life quality needs for animals is vitally important. Zoos provide the only opportunity many people get to see and interact with many animal species, including those on the endangered list. This opportunity often bolsters visitors' support for legislation and programs aimed at protecting these species and their environments.According to the Association of Zoos and Aquariums, more than
175 million people visit zoos each year
. That's more people than attend NFL, NBA, NHL, and MLB games combined. Zoos draw a diverse group of visitors—the largest demographic visiting zoos are mothers with children.A survey conducted by the AZA found that 93 percent of respondents said their families enjoy seeing animals up close at zoos and aquariums. Seventy-nine percent of respondents said that they feel better about companies that support wildlife conservation at zoos and aquariums, and 66 percent said they are more likely to do business with these companies.Zoos remain incredibly popular with the public, provide an invaluable teaching tool, and encourage greater public advocacy for wildlife issues. The better zoos accommodate visitors and animals, the greater their impact will be.
Building Safe Zoo Exhibits
The Animal Welfare Act
governs how zoos in the United States operate
, and the Association of Zoos and Aquariums also provides helpful support for zoos, including guidance concerning employee, animal, and guest safety.In years past, many zoo animals were kept in tightly confined environments or cages. As understanding of animal needs and concern for their welfare has increased, criteria for zoo environments has changed. More care is given today to creating natural environments for animals that regard their need for space, their lifestyle in the wild, and the need for socialization among some animals, such as primates.Specifics of zoo exhibit design will depend greatly on the type of animal the exhibit houses. The needs of a penguin will vary greatly from those of a lion or tiger. That said, the creation of a secure means of ingress and egress from exhibits remains universal to any design.Design of zoo doors must accommodate the safety needs of animals, zoo staff, and visitors. Zoo exhibit doors must have no sharp or unfinished edges that can harm staff or animals. The doors must also be tamper-proof for any attempt by the animals to open them. Zoo doors must be secure from accidental or intentional access by zoo visitors
Curators and Keepers
Zoo curators and keepers who work with dangerous and large animals need to safely access back-of-exhibit holding, feeding and sleeping areas when vacant. Then move animals from exhibit to holding areas when finished with daily cleaning or at night.Zoo doors must be able to withstand harsh environments, regular wear and tear, and frequent cleaning. Enclosures with animals such as hoofed stock and primate often require hardware that is powder coated for protection. Zinc plating or stainless steel is used for environments where it may come in contact with salt water.Some commonly used door designs for zoo exhibit hardware include swinging zoo door systems and sliding door systems. A good swinging door system will be heavy enough to provide safety and security, but easy for keepers to manage and require little force on their part to operate. Selection of proper hinges and ball or disc bearings is critical to a proper swinging zoo door.With regard to sliding door systems, horizontal or vertical (guillotine) sliding doors must match with the hardware to withstand frequent use. These doors should operate smoothly and work with little physical effort on the part of zoo staff. Mechanical assistance devices such as remote crank operators can help zoo staff operate doors that may be heavy or otherwise difficult to use. Gears and other mechanisms used in these doors must enclose to prevent damage by animals and to prevent corrosion and damage from debris.
Veterinary Clinics
Specialty door hardware isn't only used in animal exhibits. It is also used in veterinary clinic areas where animals may be taken for treatment as well as quarantine centers. Animal crowding systems use doors on sliding track hardware to gently coax animals forward into examination rooms. Facilities managers should keep safety and utility in mind when selecting doors for these portions of the zoo.This is why it is important to work with a company that has experience producing zoo hardware for facilities. Zoo managers need to know that the hardware they are getting is designed with all these concerns in mind so that they can rest assured their goals are being accomplished. Researching zoo and veterinary hardware ahead of time ensure that doors and hardware will work exactly as needed once installed.
Technology & Zoo Management
Zoos and zoo exhibits will continue to evolve, as new technology offers better methods for managing facilities, and as demand for more animal-friendly enclosures increases. Recommended by experts, exhibits designed for a 10-year lifespan is important as needs and available technology will make exhibits obsolete in this period of time. Designing facilities with disassembly and recycling in mind will help reduce costs.Some current directions zoo exhibits are taking include invisible barriers created with special netting and increased use of tension steel wire and electric fences. Computer-aided design programs are helping architects and exhibit designers create more naturalistic animal exhibits that maintain animal welfare and visitor safety, while also giving visitors a good look at wildlife in realistic environments.The green movement is also having an impact on zoos. In Europe and the United States, more zoos are embracing water-recycling, waste reuse, and technologies that emit less carbon dioxide emissions.Zoos and architects designing zoos seeking sturdy exhibit hardware should
consider Richards-Wilcox Hardware
. In business for more than a century, Richards-Wilcox has built a reputation for manufacturing quality specialty hardware for slide, swing, and slide-fold doors for a variety of industries, including zoos.Richards-Wilcox has provided zoo exhibit hardware for top zoos, including the Hogle Zoo, Erie Zoo, Lincoln Park Zoo, Toledo Zoo, Chicago Zoological Society, Cincinnati Zoo, and is a proud member of the
Association of Zoos and Aquariums.
Facilities managers seeking dependable zoo doors and animal handling hardware can trust Richards-Wilcox Hardware to meet the needs of their facilities.